Caregiver Stress in Families of Children with Autism
In this webinar, Amy Keefer, Ph.D., ABPP, discusses parental stress and coping strategies in families of children with autism. This is a joint webinar with SSC@IAN (Simons Simplex Collection at the Interactive Autism Network). This webinar is 60 minutes long.
Who is Amy Keefer?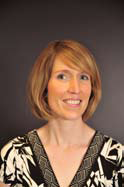 Amy Keefer is an assistant professor at Johns Hopkins School of Medicine, Department of Psychiatry and Behavioral Sciences. She is also a licensed clinical psychologist and a clinical psychology supervisor at Kennedy Krieger Institute's Center for Autism and Related Disorders.
Webinar Documents