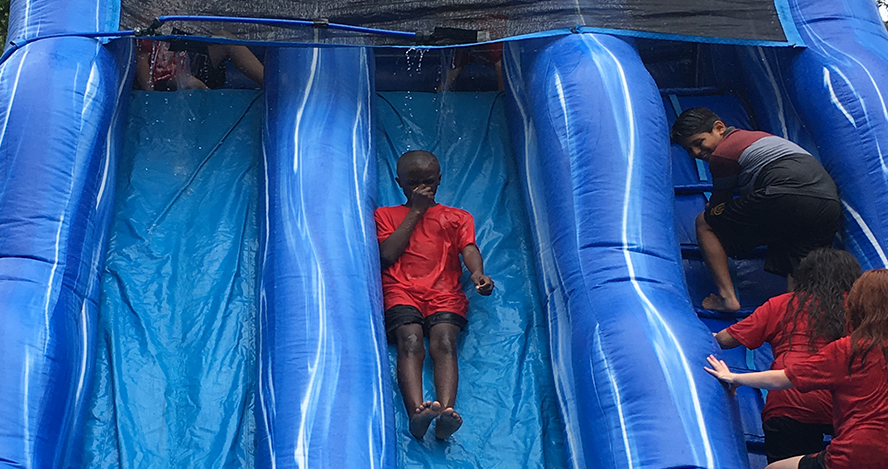 Pictured above is Mason having a great time at field day in 2018.
Emily Singer
Date published: April 15, 2019
As a toddler, Mason had a few quirks. He loved life insurance commercials — any kind of life insurance — dropping whatever he was doing to go up to the television and watch whenever they came on. He looked at objects in a certain way, moving his head to the left as he held an object in his right hand.
His parents thought he was a little different. But they were shocked when Mason was diagnosed with autism at age three. Mason's mother Cynthia joined SPARK's community advisory council in 2018. She talks with SPARK about her experience and why the family decided to join SPARK.
Were you surprised when Mason was diagnosed with autism?
My husband and I thought Mason was a typical baby. He was a little more advanced than his twin sister Madison. He would see a stop sign and know it was an octagon. When a life insurance commercial would come on television, he would stop what he was doing and go up to the TV and watch it. I thought it was funny.
Some things made us scratch our heads. We started taking him to day care when he was two years old because we wanted to get him socialized with other kids. The other kids would listen intently while their teacher told a story. But Mason would happily play by himself, twirling around. He had no interest in what the other kids were doing. At that point, we thought, he's a little different.
How was Mason eventually diagnosed with autism?
One day the teacher pulled me to the side and suggested we have Mason tested. We went back to the school to get the results on a gray, dreary day before Thanksgiving. They said, "We have Mason's results. Your son has autism." Never in my wildest dreams did I think they would come back with autism. I was speechless. I knew what autism was, but it did not dawn on me that my son was showing signs of autism. Mason just didn't fit the mold that I thought was autism. We were really confused in the beginning.
What did you do after the diagnosis?
They told me not to think the worst, and put things together quickly to help us help Mason. It was a pivotal time in his life when we started his therapy and laid the groundwork for what we needed to do to help him. Had we not gotten that intervention, I think my story would be a very different.
What kinds of therapy did Mason do?
He spent part of the day in a school with an early childhood intervention that paired neurotypical children and kids with autism and other developmental issues. When he was 3 to 4 years old, he got close to 30 hours a week of applied behavior analysis, ABA.
Did you see a big difference?
Yes, it really helped him with the social aspect of things. ABA therapy helped him know what he should do, looking at cues and things like that. I am a big advocate for early intervention.
How did you find out about SPARK? What inspired you to join?
We found out about SPARK through our pediatrician at the Medical University of South Carolina. We wanted answers and to help contribute to finding answers — to be part of something bigger than us. Maybe we'll get answers in Mason's lifetime, maybe in his children's lifetime.
What do you like about SPARK?
I have never seen a study specifically about autism that wanted to have so many people from all different socioeconomic backgrounds and different ages.
Did you have previous experience participating in research studies?
I have experience with research from both a professional and personal standpoint. I was a grants manager for oncology and basic science research. So I know how important it is. I have participated in research because I have chronic conditions — scleroderma and pulmonary arterial hypertension. A lot of people are afraid of research because they don't know what will happen. But I know it takes research to get answers later on. It has to start somewhere.
What inspired you to join SPARK's community advisory council?
I wanted to help and to have my voice heard. SPARK is doing this to help us. Giving feedback is a small token of giving back.
Mason has a neurotypical twin sister. How has that shaped your experience?
She brought him into social circles he probably would not have entered on his own. I don't know if she knows how much she has helped my husband and I in helping Mason.
Any suggestions for other families?
Take things one day at a time. Engage in a community. Help with research and join something bigger than you are.
I want parents and guardians to know it's an ongoing process, a continuous cycle of learning. You'll never stop learning when you're dealing with someone on the spectrum. Your child will teach you things you never thought you needed to be taught. I was a person without patience. He taught me that. And don't be afraid to ask for help. I'm still learning this.
I would definitely encourage parents to join online or in-person groups to help navigate this thing called autism. You feel miserable sometimes when dealing with a child with special needs. But when you hear other people going through the same thing, you realize you're not alone.
I also think it's also important for fathers to have someone to talk to. What my husband goes through is sometimes really different from what I go through. When we talk, the things that bother me are much different than what bothers him. With my husband, he has a son but not the son he envisioned. He wants to go in the yard and throw a football and do traditional dad and son things. Mason wants no part of that, which hurts my husband to the core. I think there needs to be more support for men. We were at conference in the summer that had a workshop just for fathers. They were able to relax and relate. If they get in a room with just fathers and hear another person with same issues, I think they are able to open up more.
How is Mason doing now?
Mason is a sweet and energetic boy. He loves to ride his bicycle and laugh and play with his sister and sometimes his classmates. He is a well-rounded kid who reads at his grade level, loves cruising with his family and earns A's and B's on his report card. He's in 4-H and won several awards for raising chickens, and he loves to dance with his mom.
Autistic doesn't sum up Mason at all. Sometimes I think of him as an invisible person on the spectrum — you can't automatically see something different is going on. He doesn't have the outward behaviors that people often associate with autism, such as hand flapping. There are many different layers to Mason. Some people assume he is neurotypical. After meeting Mason, some people may never know he has autism. But that doesn't make it any easier. The take-home message I want everyone to know is autism is definitely a spectrum disease, from severe to high functioning. And no matter where that person happens to fall on the spectrum, each person has their weaknesses and their strengths.